Tripawds is a user-supported community. Thank you for your support!
The holistic vet we see is the kindest person ever!  She offered to watch Bosco for us today.  Matt and I have been able to work things out so one of us is home most of the time but we couldn't today.  (He's a nurse and I have always admired him for it but man I sure appreciate the flexibility of his job too! ) Anyway, we couldn't work out something for today.  I had to be at work because it's testing season.  Poor kiddos.  Anyway, our vet came into work early so that she could watch Bosco for us.  He is still not walking but making steady progress.  She did more PT, acupuncture, e-stim, and massage.  When he isn't too tired he is doing a great job of flipping his feet up.  We have seen him do something new each day. The short version is that she was pleased with his progress and she saw him just last Saterday!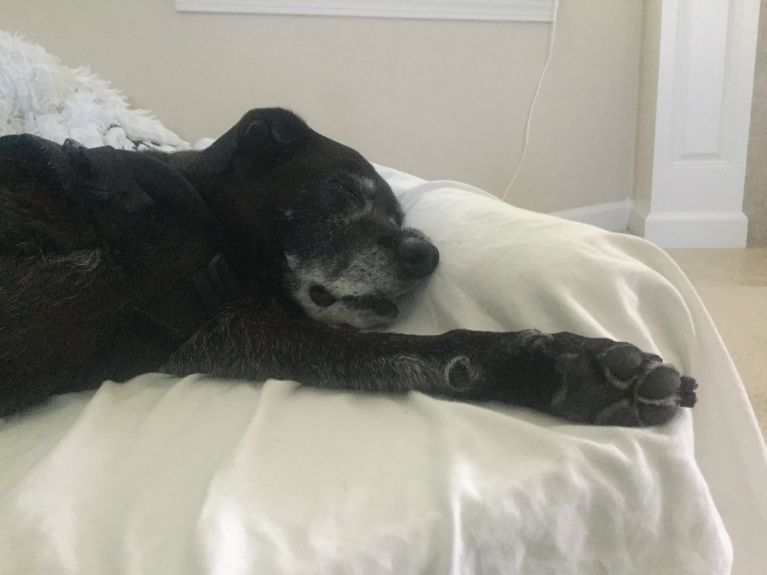 (Squishy nap time face after all that great PT🐶😴)
He may be able to walk again!  We are going to keep working on his PT excercises and see.  I'm waiting to hear from the vet involved in the Osteosarcoma vaccine study.  If we still can't do the vaccine we will have to decide what to do about the cancer.  My husband is set against metronomics.  I don't quite get that, but that's an issue for another day I guess.  For now, we're going to sit outside for a bit and enjoy the pretty weather.  It snowed yesterday and now it's in the 60's.  I have whiplash!